Terez and I clicked the day that we met. I don't think we even spoke about marketing, we spoke about everything BUT marketing.
On the second date though, we rattled off ideas for our 2 marketing workshops and continued to get to know each other with each coffee date that extended longer than scheduled.
The first workshop that we held together was titled "An Overview of the 3 marketing channels to master in 2019." Initially I wondered how Terez could speak for a whole day on 3 marketing channels, but once we started working together I realised that this lady is a FOUNTAIN of knowledge… and it literally pours out of her.
I also realised that I don't know nearly as much as I thought I did about this topic, but I was hungry for more!
The second workshop that we collaborated on, was a 2-day marketing intensive.
In this workshop, Terez covered FIFTEEN marketing channels – Crazy!!
But that was only one small segment of the event. The other topics that we covered were: Establishing your why, Goal setting, Creating your brand story and brand persona, marketing funnels and content creation.
Before we stand out, we must get clear on what we stand for.
SIMON SINEK
Terez had some really clever ways of guiding us through an exercise to help us discover our PURPOSE. There were so many AHAs happening around the room – it was pure magic.
A series of questions had us discussing our desires, our intentions and our motivations. A few of us realised things about ourselves and our businesses that were completely unexpected and so profound.
One of the attendees had such a powerful realization that I get goosebumps thinking about it. She came to understand that her personal purpose and value system didn't align with the business she had created, and she could see the impact of this on her business. 
Within minutes she had found a solution and is currently undergoing a huge rebrand and business shift. I am SO PROUD of her!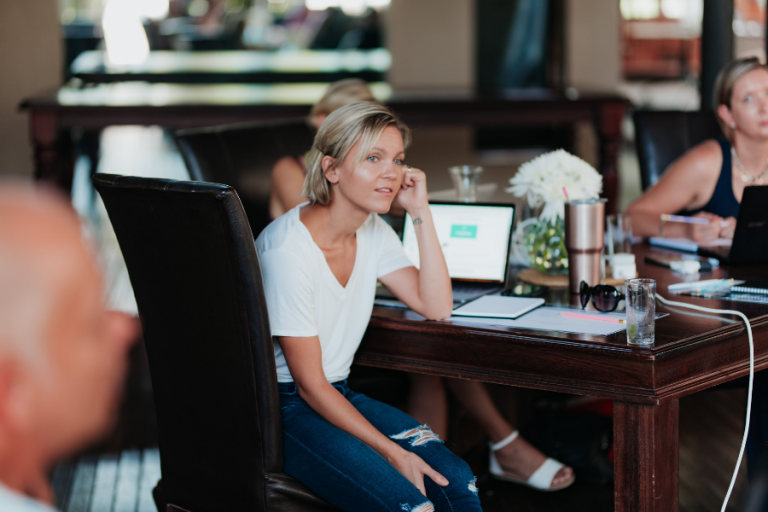 The magic continued as we put pen to paper and worked on our individual businesses and marketing strategies.
Everybody left the workshop with a clear marketing strategy, a kick up the butt (if needed) and a group of new friends – a support structure. We have since started a Facebook group so that we can stay connected to one another and it has been incredibly rewarding to see the interactions taking place.
Terez presented her knowledge in a way that offered space for our own thoughts. I found myself scribbling all kinds of ideas in my notebook as she spoke.
There were no statements like "You should be posting this many times" or "You'll never sell if you don't have a mailing list" – she was gentle and kind, and this is what I appreciate most about Terez. 
Since the workshop we have seen some real growth among attendees. There have been rebrands, product launches and articles published.
Thank you Terez – you made this happen. 
On behalf of everyone who attended this workshop, thank you Terez. You have made a huge impression on each of us and our businesses.
Thanks also goes to: The de Charmoy Estate for hosting us, the Delish Sisters for the food, The Present for the tea treats and Darryl for the flower arrangements.